Auto Techs Need Lift Safety Training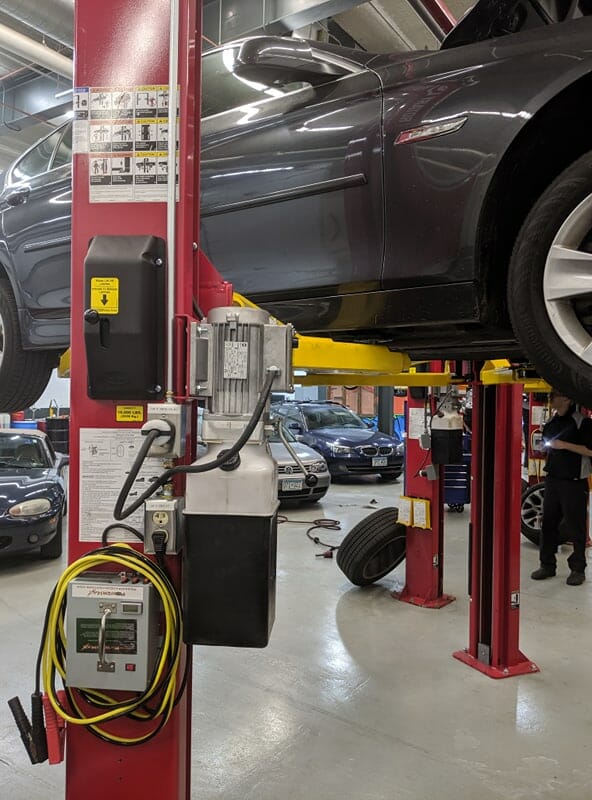 Vehicle lifts are an important piece of equipment in auto repair shops. They're used throughout the country and the world to raise and lower vehicles very effectively. Unfortunately, sometimes they are not well maintained, and not all employees are thoroughly trained in lift safety. These failures can and have led to thousands of accidents and injuries, and some deaths occur every year because of unsafe lift usage or lift failure. 
Many types of vehicle lifts exist, including two-post surface mounted lifts, four post lifts, in-ground lifts, and mobile lifts. Each of these are used differently to accomplish the same goal, and they all have different procedures to follow to ensure safe use. 
Lift Safety Specifics
OSHA does not have a specific standard that applies to automotive lifts. That does not mean that the employer is not under obligation to provide a safe work environment, one that is free from recognized hazards that are likely to cause serious physical harm or death.
Advertiser / Sponsor

In order to ensure lift safety in the shop, the owner must be responsible for:
Annual inspections by a qualified lift service company

Daily lift inspections by staff making sure that locking devices, lift controls, drive chains, wire rope, arm restraints, shut off devices for over travel, hoses, wiring, hydraulic leaks, floor cracks, and anchors are all operating correctly. Employees should NOT check for leaks in the pressurized hydraulic system. This is dangerous. 

Training employees to safely operate the lift(s) and maintain training logs

Maintenance of the lift(s) and the repair logs

Putting into place a lockout/tagout program for all vehicle lifts
In order to ensure lift safety in the shop, the lift operators must be responsible for:
Conducting daily inspections of the vehicle lift(s)

Reporting anything unsafe found during daily inspections

Completing lift training and becoming familiar with the equipment before operating it

Inspecting the lift before each use

Using all the safety features on the lift and following the manufacturer's instructions

Maintaining a clean and safe work environment
The most common bad lift practices are failing to lower the vehicle properly onto the safety locks, failing to fully train employees on lift operation and safety practices, and failing to fully document safety training, maintenance and repair logs, and lift inspections.  
The Automotive Lift Institute also recommends:
Repairing vehicle lifts with original equipment (OE) parts

Never blocking open or override controls

Never loading the lift beyond the manufacturer's rated capacity

Never raising the vehicle with a person inside of it. While the lift is in operation only shop employees should be in the lift area.

Keeping the lift area clean and free of debris

Using high-reach, supplementary stands to prevent any instability on the lift

Removing materials from underneath the vehicle before lowering the lift

Positioning lift supports to touch manufacturer's recommended lifting points and, when working under the vehicle, keeping the lift high enough for the locking device to be engaged. 
ONLY trained and authorized shop employees should position a vehicle or operate the lift, and no one should ever hit or run over lift arms, adaptors, or axle supports. 
The Need for Lift Safety Training
The Automotive Management Network strongly recommends that auto shops train their employees in lift safety. The Automotive Lift Institute offers an online lift safety course that we promote on our site as an option for auto shop owners and managers who want to make sure their employees are properly trained so that a culture of safety will be maintained in their shops and both workers and property are protected. 
What does your shop do with regards to training employees and ensuring that vehicle lifts are safely operated and well maintained? Have you put any policies or procedures into place that would help meet these goals? We want to know. Please share your experience either here or in our forums.