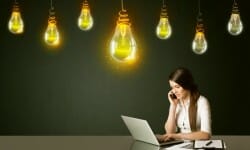 How important is a website, anyway? Every business owner knows he has to have one. What's less obvious is how that website converts dollars spent on design and hosting fees to actual customers in the shop. That is the thousand dollar question, and there are books and websites dedicated to explaining in small detail how every decision you make about your website can translate into profit.
While there are plenty of ways to update your website so it generates more traffic, how do you know when it's time for an overhaul?
Your website is cluttered and disorganized. Does your website clearly provide the information that your customers are seeking from it? Do your customers have to scroll or squint to find it? If that's the case, it needs a makeover. What should people be able to locate quickly on an auto shop's website? Your business's:
Telephone number

Address

Location/directions (with small map)

Email address

Hours of operation

Price for an oil change

Methods of payment accepted

Towing contact number

Appointment setting tool

Estimate request tool
Your website is unattractive or dated looking. People are visual, and they process images a lot faster than they process text. If your company's website fails to convey a good impression within seconds, people will click away. A simple layout with good graphics will have visual appeal and make a better impression. Remember: cluttered is bad, and less is often more.
Your website is not mobile friendly. This last April Google reconfigured its algorithm again specifically to punish websites that are not mobile friendly. The algorithm now excludes from Google's page rankings sites that do not work well with mobile technology. The ratio of web searching being done on mobile devices versus PC computers is skewing ever more towards mobile as younger generations used to being continuously available online become consumers. If what they see when they look at your website is text and more text, you will lose out on customers in more than one way.
While your company's website may seem like an insignificant part of what you actually do, it is the face of your business for many prospective customers, and they will judge you on whether it's attractive and functional. That's just a fact. If you have any questions about whether your site is too outdated, ask your Millennial friends, family members, or customers what they think about how it looks and how easy it is to use. They won't be afraid to tell you what works and what doesn't. From there you can begin improving this important auto repair shop marketing tool for your business.