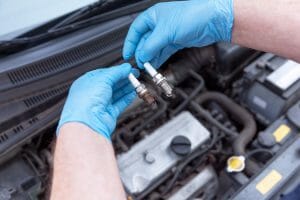 Previously we discussed the desperate shortage of auto mechanics and how that shortage might affect how dealers and auto repair shop managers choose to recruit and pay their techs. The recent Chicago Auto Mechanics' Strike illustrated some of the things at stake in the push and pull between techs and dealers as well as the benefits of collective bargaining power.
On August 1, 2017, 2,000 Chicago-area mechanics, represented by Automobile Mechanics' Local 701 chose the option to strike when unionized mechanics rejected a contract that offered wage increases of 5 percent annually but did not address workers' concerns about scheduling, work hours, and uncompensated work time. The union had pushed for a guaranteed 40-hour work week.  Sam Cicinelli, Local 701 directing business representative, stated that poor pay rates along with techs' inability to progress in the field were the main frustrations of the union's membership.
The strike lasted for nearly 7 weeks and  affected nearly 140 of 420 new car dealerships in the Chicago Metro Area, specifically the ones that bargain with the new Car Dealer Committee. While the majority of dealerships in Chicago did not have their mechanics walk out, many of them experienced disruptions in service traffic anyway as car owners in Chicago were confused about which dealers remained open.
Affected dealers dealt with the strike individually. Some completely shut down auto repairs, while others offered only the basics such as tire rotations and oil changes. Most stopped scheduling appointments and did no work on cars with recalled parts. The New Car Dealer Committee recommended that car owners with recalls go to another dealer to have the work done rather than continue driving their cars. As the strike wore on, open dealers saw an increase in traffic and closed dealers worried that car owners who switched dealers might never return as customers. As a result, many of the dealers involved attempted to negotiate on their own, and half of the dealerships making up the NCDC had already signed interim deals by the time the final round of bargaining began.
On Sunday, September 17, 2017 the Chicago Auto Mechanics' Strike came to an end with the union and the NCDC agreeing to terms similar to those brokered by individual dealerships. The union announced that the new contract stipulates "a significant wage increase across the board and the mechanics' No. 1 issue of increasing their base pay two additional hours over the term of the agreement." There are other benefits the strikers managed to carve out, including a better path to advancement, a shorter apprenticeship from 10 to five years, a more family friendly work schedule for senior-level journeymen techs, and an increase in tool insurance up to $100,000. Chicago auto mechanics resumed work on Monday, September 21.
The strike and its outcome offers a look into the struggle going on between workers and managers within dealerships. Does it tell us anything about how independent shops will negotiate with their techs in the future?