If you've been in the auto repair business long, you know that building your clientele hinges on building trusting relationships with your customers. Some of that trust can and should be built during the direct interactions that happen while the customers are in the building waiting for repairs or periodic service to be finished. How you present yourselves professionally as well as the kind of atmosphere you provide and the way your staff performs routine services can all help you in this endeavor, but what about after the fact? Can you continue growing goodwill or cement a positive impression after the point of service? If your customer follow up is top notch, the answer is definitely yes. Here are some tips for setting up a follow up call system for your auto shop.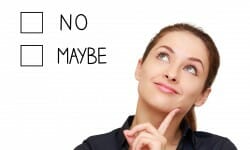 Choose your follow up calls with consideration. Not all of your customers will need follow up calls. Some of them already know your shop well and do not need additional tending. Some people may prefer to be left alone, and others came in for routine services like oil changes only. So instead of trying to follow up on a large percentage of your clientele, select based on the repair performed, the temperament of the client, and the status of your current relationship.
Set aside the list and the files of the clients you intend to follow up with at the end of the day. A week later, have whichever staff member you assign to this task take that list to a quiet room and give it their undivided attention. This will make it easier and quicker to perform, and it will also be easier to gather accurate impressions of general customer satisfaction.
Write out a basic script for how your employees should approach any telephone conversation with options for what happens if customers respond negatively or in any sort of unexpected way.
Create a system for following up with customers who seek routine services as well, incorporating them into your call routine.
Take extensive notes with dissatisfied customers so that your auto shop manager will be able to quickly and efficiently address any individual client problems as well as general service problems that may exist.
Follow up on follow up calls, if necessary. The customer should always be "it" in telephone tag.  If your customers cannot be reached, leave an upbeat message with all of your contact information, and make a note of which customers were successfully contacted for future reference. Never leave your customers hanging. Good communication is a cornerstone of good customer service.
It's important to acknowledge that customer follow up is unlikely to generate an immediate or obvious return on investment. Implementing a follow up call system isn't going to mean that your garage bays will suddenly be filled to overflowing or that profits will spike. But as with every improvement, slow and steady wins the race. Relationships are not built overnight, but it's a truism that retaining a client is simpler and cheaper than bringing in a new one off the street. With that in mind, use the above tips to improve your customer retention, and don't forget to let us know whether and how well this worked for you on our Automotive Management Network forums.